Custom Cabinetry
It can be difficult to find cabinets or cabinet makers that work well with an historic house. Shenandoah Restorations has experience designing and building period kitchens to fit historic homes. Many old homes were built without indoor kitchens at all. Even homes with original kitchens lacked cabinetry the way we think of it today. Butler pantries, freestanding hutches, shelves and work tables were the order of the day. Combining period details with traditional joinery and natural materials can create a look that is appropriate for historic houses and does not feel out of place.
Historically inspired kitchen cabinets
Flush mounted beadboard doors fastened on the interior with tapered sliding dovetailed battens were inspired by local precedents of German origin. A sash style upper cabinet glazed with antique glass provides contrast and highlights dishware. A 1930s farm sink was aquired locally and installed with a custom finished brass faucet.
Skillman Farmhouse Kitchen
We worked with the existing cabinet boxes and layout to transform contemporary cabinetry into something unique. Overmount doors were replaced with custom flush mounted doors and design details consistent with period furniture. A tile floor was replaced with tongue and groove heartwood pine that was re-milled from local beams.
Punched Tin Frame Doors
Doors inspired by nineteenth century pie safes and open shelving along with a beadboard backsplash changed the feel of the space entirely.
Traditional Handmade Joinery
Hand cut half-blind dovetailed drawers mounted under the cabinetry next to the stove provide easy access to pot holders, utensils, or spices. A breadbox in the corner is used for cooking oils and makes efficient use of a difficult space.
Early Cabinetry
For this kitchen, early twentieth century built-in Douglass Fir cabinets were salvaged and reconfigured to fit a new space. The old cabinets had a low counter height which allowed us to work below the window sill which is a common problem in nineteenth century houses. The back-splash behind the 1949 Hardwick stove is an old tin ceiling hung from a picture rail.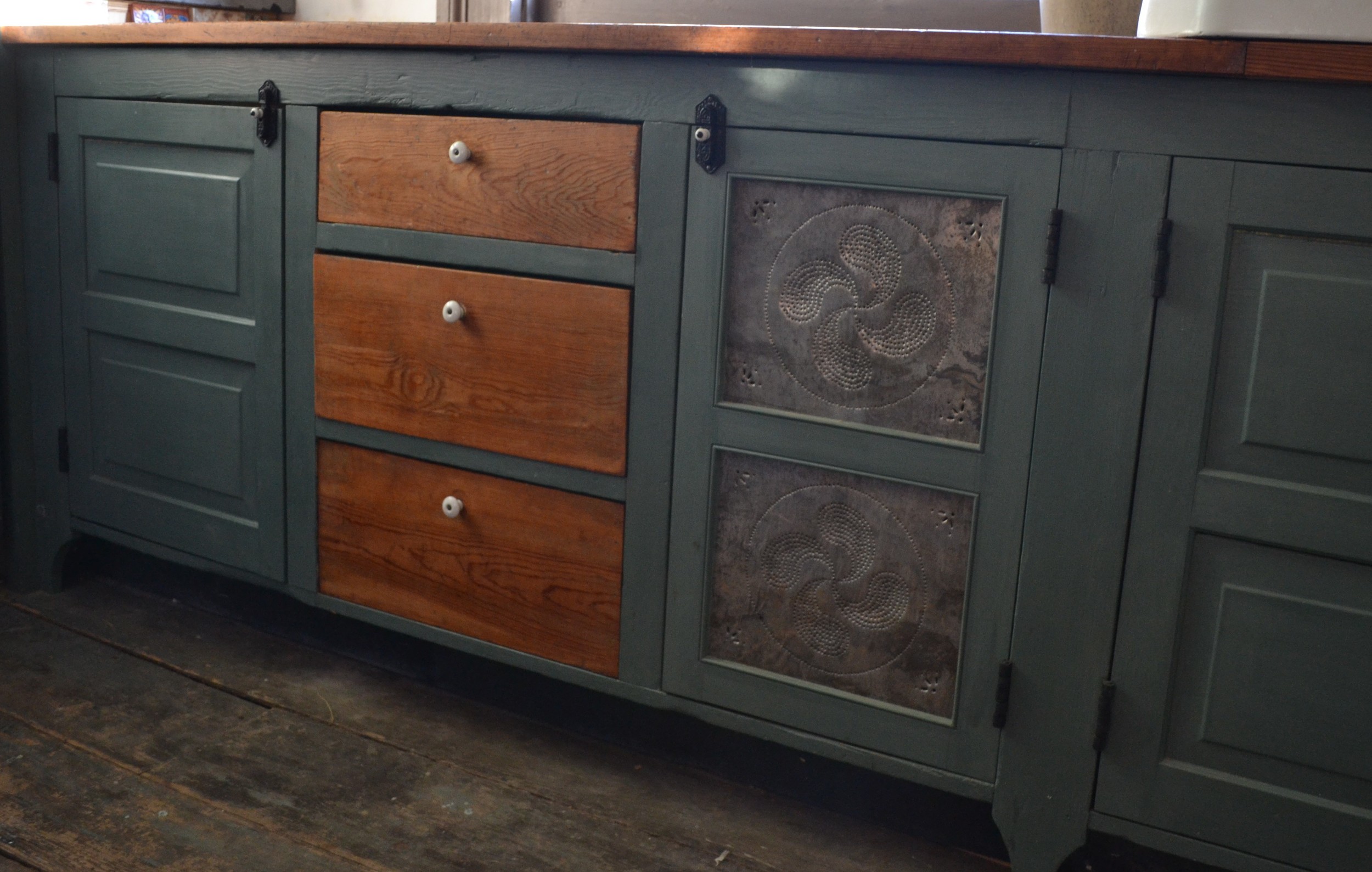 Reusing old cabinets
In contrast to the previous kitchen, most of the doors and drawers were reused as well as the face frame and the counter top. However, without compartmentalized boxes as are found in modern cabinetry, it was necessary to rebuild the framework underneath. Several doors and an extra drawer were built to make them fit the new space. This was the third or possibly fourth time these cabinets have been reconfigured in their history.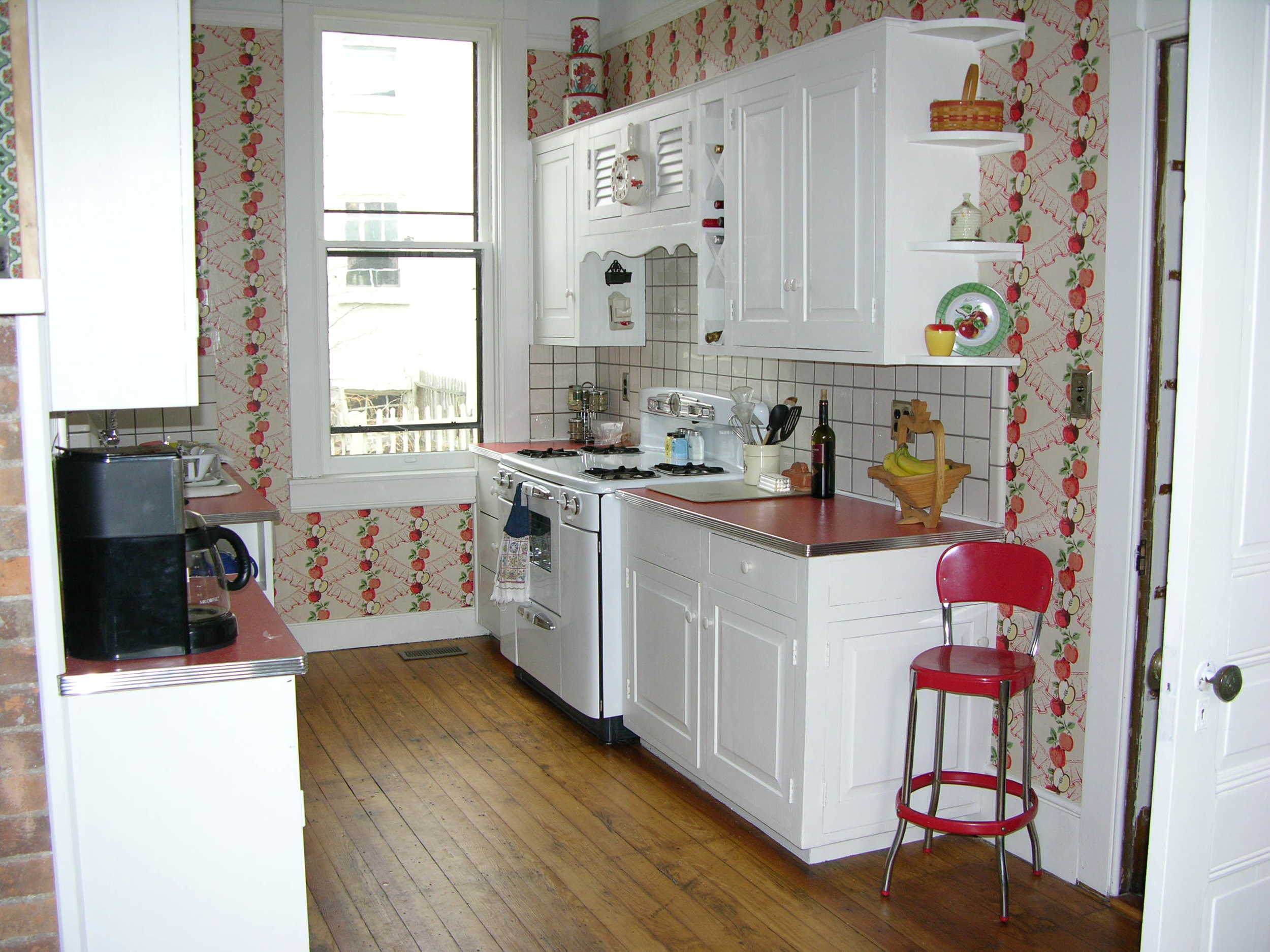 Mid-twentieth century style kitchen was created in part from recycled materials.
Solid poplar wood was used to make everything from the frame and doors to the custom beadboard backs. The wood is finished with a natural milk paint.
This kitchen was designed around two salvaged glass cabinet doors. The countertop is 2 inches of solid maple finished with strong coffee and mineral oil.