Current Projects
I have had several requests to include a page dedicated to current or ongoing projects. Much of our work is comprised of long term projects that may, by design, take years to complete; one room at a time, or small manageable tasks entered upon every year or two. Large jobs can require a year or more even if we dedicate a majority of our time. As time allows, I will attempt to stay relatively up to date regarding some interesting historical restorations that are in progress.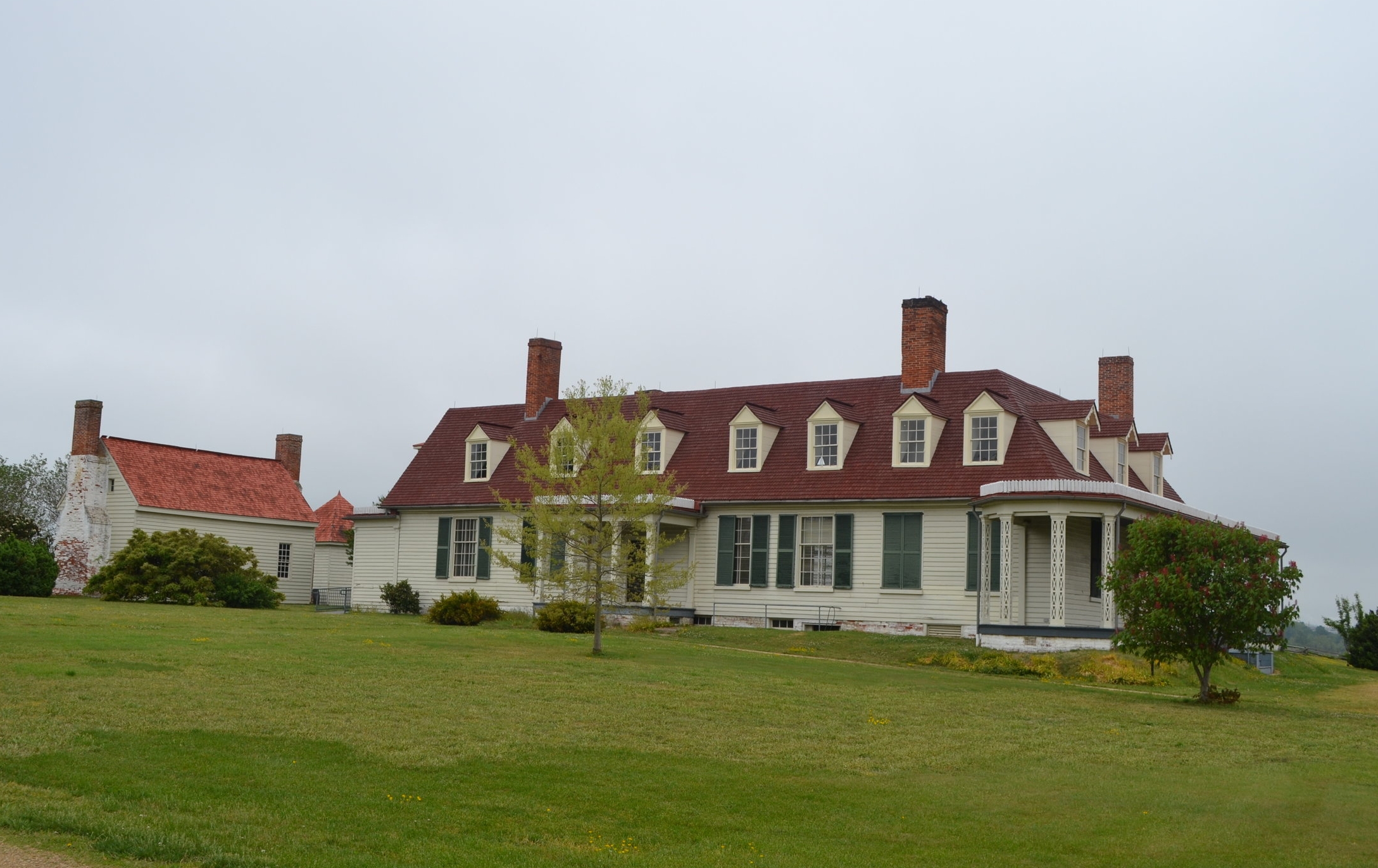 Appomattox Manor
This Fall, one of our main projects is the restoration of windows at Appomattox Manor which is located in Hopewell, Va, and managed by the National Park Service. The building was constructed in 1751 and is significant because it was used as Union headquarters during the Siege of Petersburg from 1864 to 1865. It was also shelled by the British during the Revolution. We are performing an extensive restoration of the sash and window frames.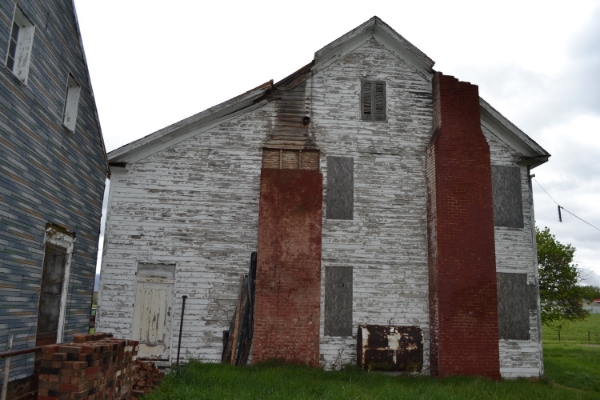 Adam Miller House, Elkton, Va
The property associated with the Adam Miller House is comprised of three separate houses as well as several barns and dependencies. The two houses depicted here both date to the eighteenth century. There is much work to be done but the bones of the structures, as well as many original details, are in very good shape.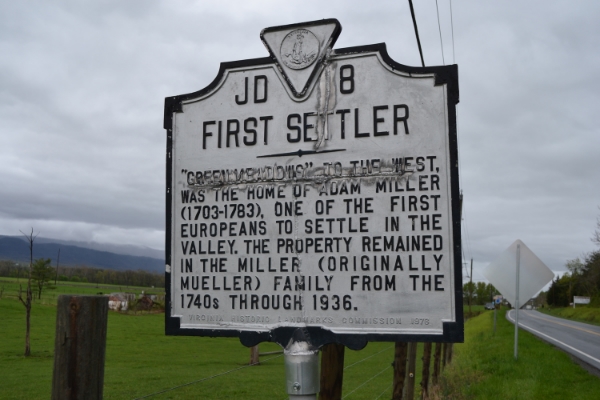 Historic Marker along highway 33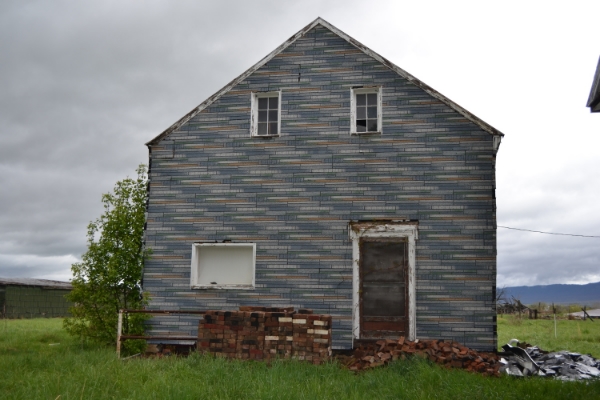 Original homestead
If the research attributed to this building is correct, this early Germanic structure dates to 1727 which would indicate that this is one of the oldest houses in Virginia. Underneath the siding is a two over two, center chimney log house.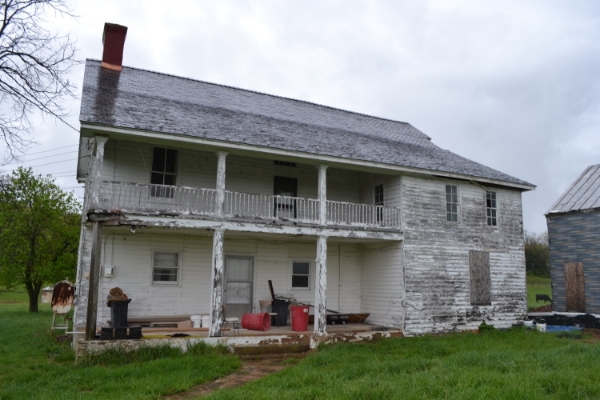 Main House
Now the rear of the house, this elevation was originally the front which faces the Shenandoah River. It was constructed in two phases with large hewn timbers joined in a frame with brick infill. The first construction phase is most likely colonial. The addition to the right was built in the mid nineteenth century in the Greek Revival style as are many renovations made to the original building. We are in the early stages of a seven year plan to restore and renovate this building into a livable home.
Rot
Investigating a window sill leak we found extensive water damage
Timber replacements
Jay, Christopher and Scott fitting a new girt beam with a scarf joint and dovetailed half-lap into a new corner post.
Corner Post
An amazing feature we found on this frame was this 20 foot long hand hewn corner post. What looks like two 4 x 12's nailed together to form this corner is actually one large, continuous timber that was skillfully hewn into an "L" shape with nothing but axes and chisels. When we checked the corner for plumb it was perfect in both directions - even after 230 years or more. Unfortunately water had compromised the lower portion. Here, Christopher is preparing this section for replacement.
Brick Nogging
Scott and Jay replacing siding after repairing a sill. Here, the brick nogging can be seen between the vertical posts. In the early 19c, General Skyler noted to Alexander Hamilton that nogging was "used to control fire and vermine". We have noticed this several times before in early German timber frames around the Valley.
Mountain Home, 1847 - Front Royal, Va
This antebellum residence is being turned into a bed and breakfast and hiker hostel for Appalachian train hikers. We a currently restoring the windows and doors.
Back Ell Addition
This 1869 addition may have been built over the foundation of an even earlier structure and connects the main house to an early outbuilding or kitchen. In all, there are over 70 sash being restored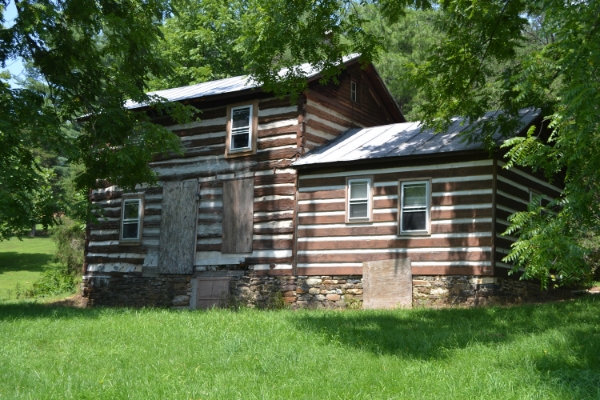 Zinck Farm
Our main project at the moment is the restoration of this Appalachian-style log cabin located in western Shenandoah County. This photo was taken in the summer of 2014 before any work had begun. As is the case with many restoration projects, it looks better here than it does now.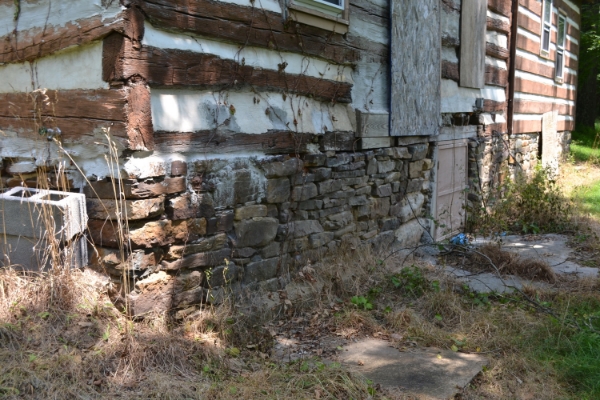 Structural issues
The rubble foundation had been collapsing, and several logs were in need of replacement. The cementitious daubing mixture used in previous repairs had rotted some logs in ways that are hidden in this photograph.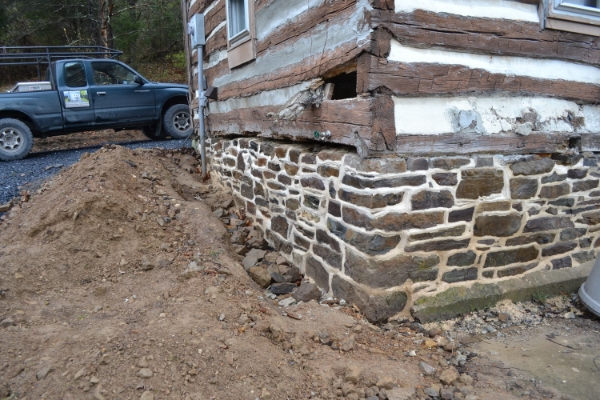 Foundation stabilization
Upon begining this project in the fall, one of the first priorities was to complete mortar and foundation repairs before freezing weather set in.
Cabin floor
The majority of the original features had been removed during or prior to an extensive 1970's renovation. We removed the interior partitions to uncover the buildings past. We found that the floor was really a series of floors built upon each other to compensate for sag and rot within the joist system. After the layers were removed we found that most of the original floorboards were not salvageable and many of the joists were in need of replacement due to water damage.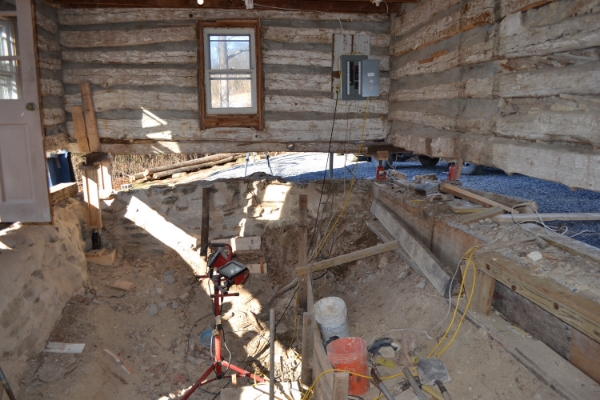 Up on Jacks
Same view; months later; a few of the original white oak floor joists were salvageable but we elected to remove them all (along with interior walls and floors and staircase) in order to replace wall logs and better build the new configuration with new oak logs to replace the compromised joists. The interior of the foundation wall has been repaired and parged.
Kitchen floor
Attached to the main cabin is an early 20th century kitchen addition. The floor here was significantly out of level and the northern foundation wall had to be removed and reconstructed. We decided to save the kitchen floor boards to fill compensate for the bad floorboards when we rebuild the cabin floor. Tile will replace this system and therefore it was necessary to remove the joists and install a summer-beam on concrete piers to stiffen the floor.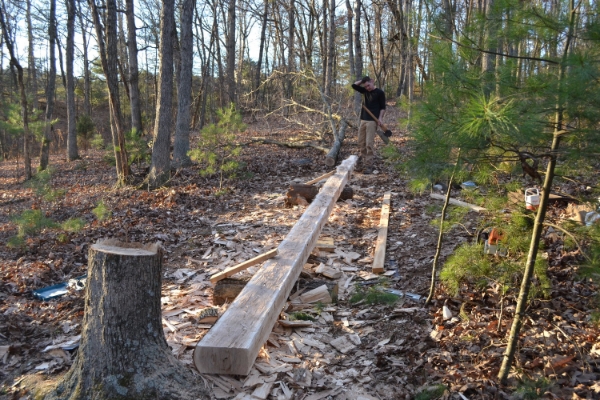 Christopher enjoying a brief reprieve
All of the timber for this project has been harvested on the property. This white oak was felled during a November new moon to ensure it's bug resistance (low sugar content) and longevity. It was hewed on 3 sides and will be notched with half dovetails to replace what is left of the southern sill log. Six wall logs and seven floor joists were milled in the woods with about a dozen different axes; most well over 100 years old and each performing a unique function.
As it stands, December 21, 2014
The last new timber awaits careful notching and strong backs before the jacks can be removed. A fresh white oak timber such as the one in the foreground weighs over 600 lbs after hewing (and this is for the short side). Once we get to a good stopping point we will break from here to take care of a few previous commitments. Next Spring and Summer we have plans to add a front porch and a small rear addition, replace windows, maybe replace a couple more upper logs, and finish out the interior. Makes me tired just thinking about it. Fortunately we enjoy this stuff. We are in the process of designing a new kitchen/bathroom configuration for the early addition on the right. The original cabin will be restored as close as possible to the way it may have existed in it's early configuration, complete with a winding stair case and white washed log interior. A State and National Register nomination has been submitted for the Zinck Farm and is awaiting state review.
Complete
All structural work done, 40 year old windows are replaced by modern efficient units, and the original plan for a porch was changed to a deck built from local cedar and white oak.
Living Room
What we could save of the original floor was put back and refinished, the log walls are white washed with a natural lime and water mix and the ceiling joists were wrapped and beaded to be left exposed. The doorway leads to the kitchen. The house is now used as a vacation rental.