Wood Floors
The floors in an old house tend to have a natural patina and color that is unmatched by anything that can be purchased today. They are often characterized by tight grain of old growth wood no longer available. There is an inexplicable character to these old floors that is intuitively appreciated. The fibers of the wood are imprinted with the life story of trees that often remember a time before Europe settled the land around us. Pine floorboards hand worked in 1850 for example, may have began life in the 1400's or earlier. Contemporary plantation grown pine is generally 25 to 35 years old and does not live long enough to grow heart wood. Shenandoah Restorations can repair or replace damaged boards with salvaged materials and mill to blend in with the existing floor. We can also finish the surface to highlight the woods natural beauty or recreate a historically appropriate topcoat.
Repair
Sometimes when other contractors see total floor replacement as the only option for repair, there can be minimalistic solutions that save the original floor. A flood caused the grooves of floorboards to split throughout a kitchen area of a mid 19th century pine floor. Recycled weatherboarding from the house was used match the original wood and create dutch-man repairs.
seamless repair
This type of dutch-man repair is tedious to execute but can blend well with the original fabric. Here the repair is begins in the center of the photo and continues up. This is the same floor as the previous image finished with varnish.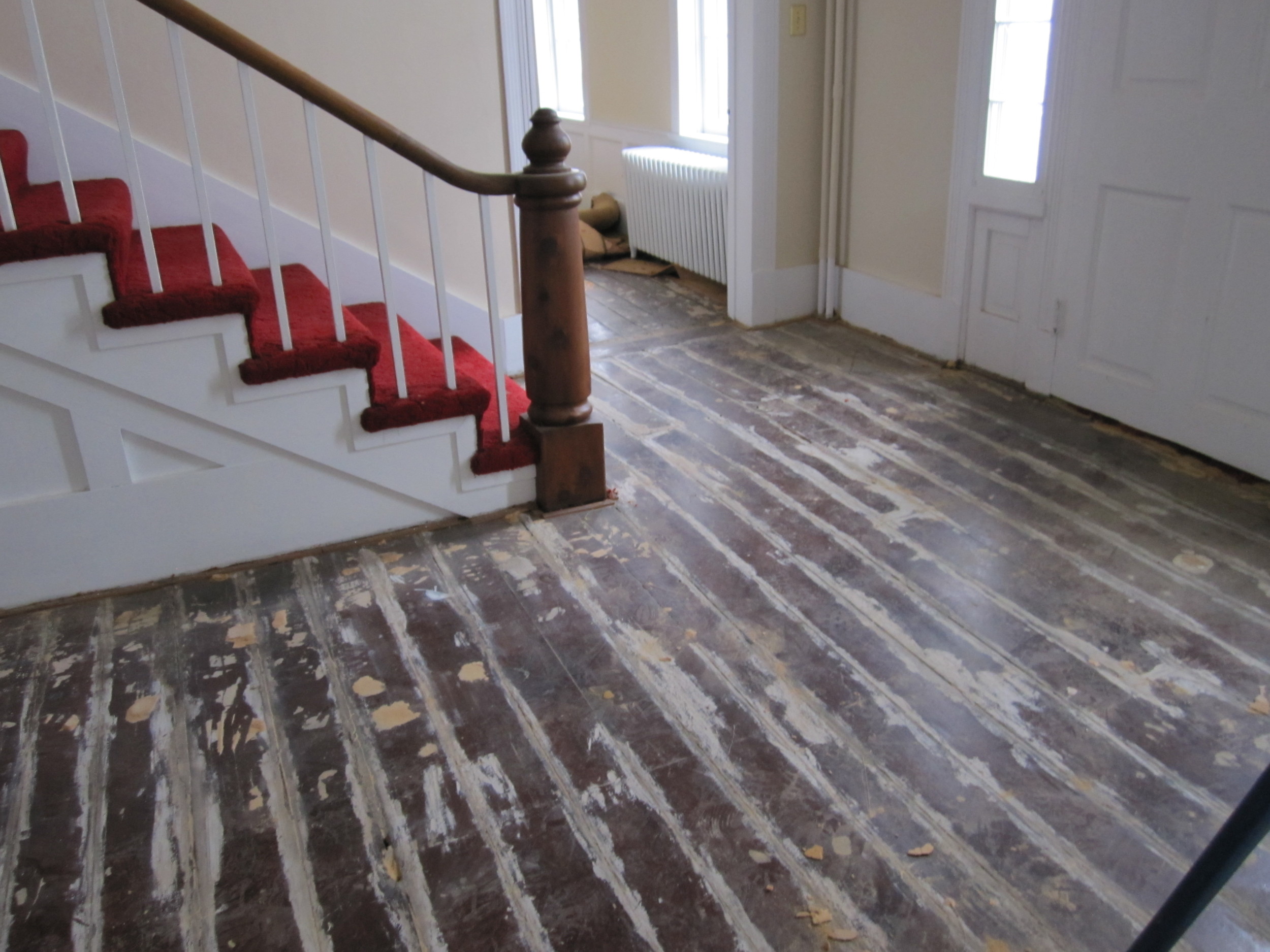 Front Hall - Pennybacker House
Carpet was removed to uncover a painted pine floor. Drywall mud had been used fill holes and level out any unevenness.
Front Hall - Pennybacker House
Salvaged heartwood pine was woven in to replace bug eaten and damaged boards.
Front Hall - Pennybacker House
Recycled boards were color matched to the old patina. The old dark finish and drywall mud was stripped off. Finished with a tung oil based varnish.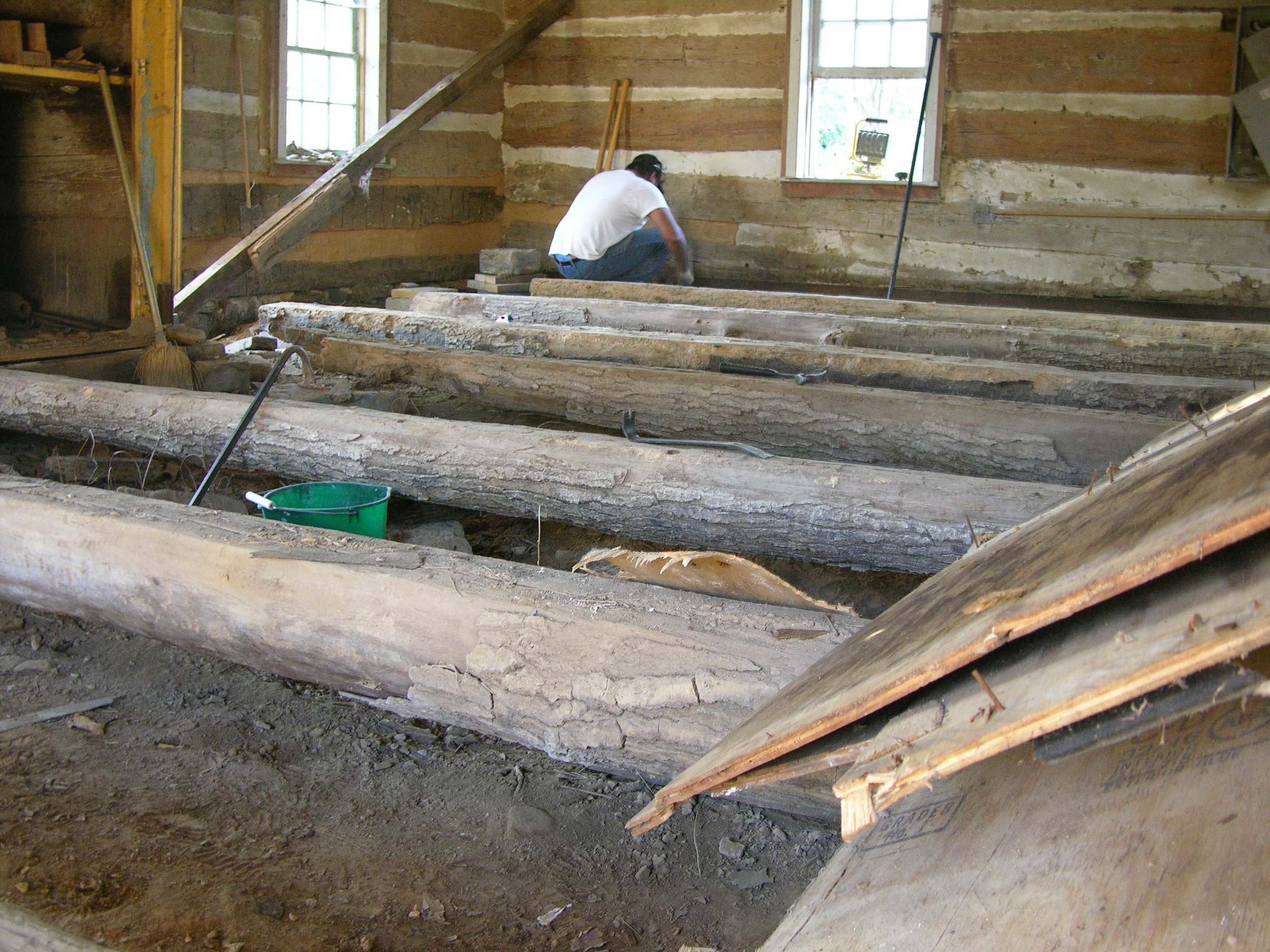 Showalter House
Some log buildings have floor systems that are independent of wall construction. These log floor joists had survived well over 100 years buried in the dirt, but without band boards to tie them together, freeze/thaw cycles had twisted and heaved the floor to the point that doors did not operate.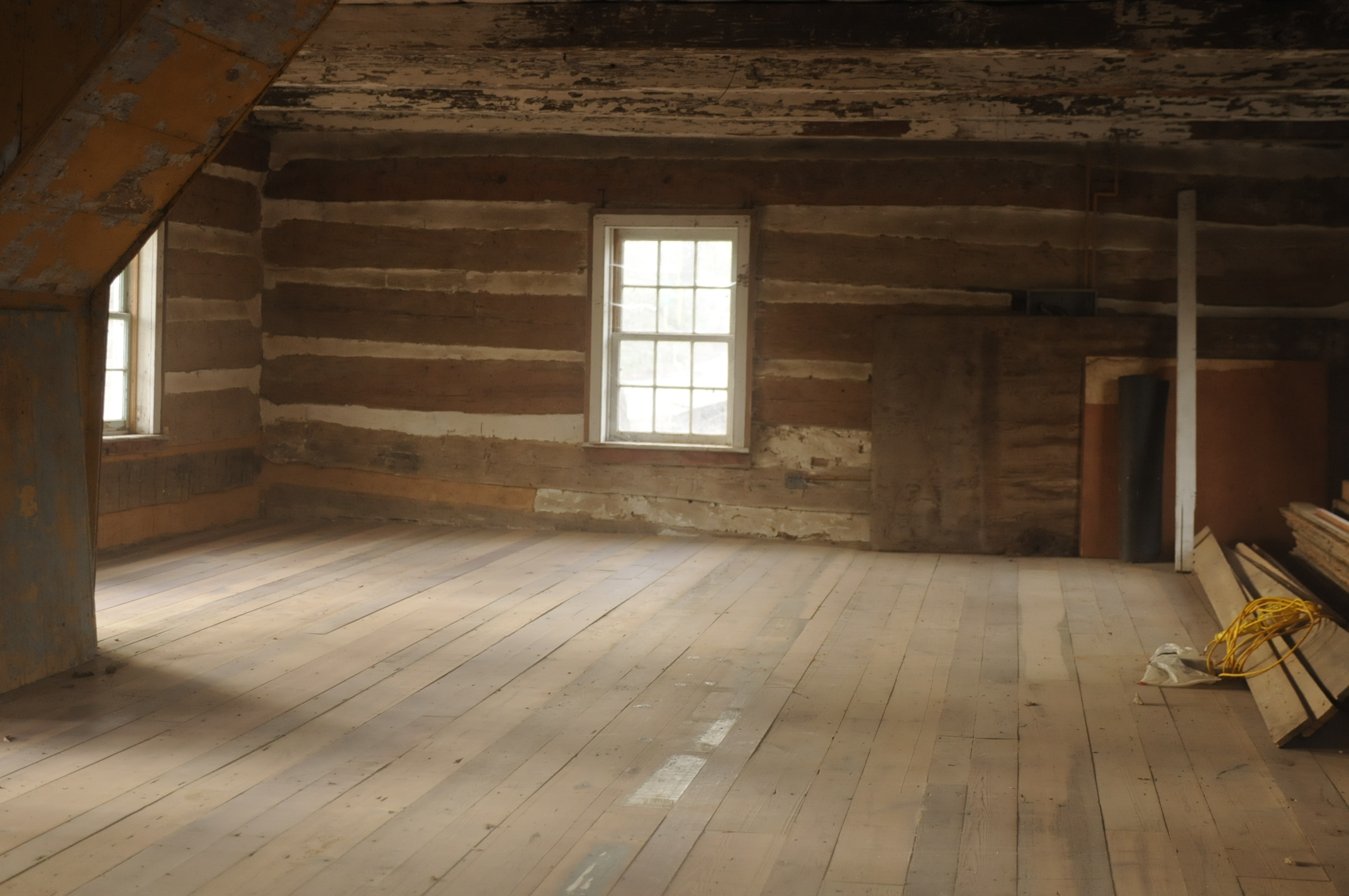 Showalter House
What was left of the original floor was removed and re-milled. Log joists were dug out and leveled on independent pier systems. Floorboards from four other salvaged buildings were milled to match the original pine floor to complete the square footage.
Shellac and wax
Shellac is an historically appropriate finish that has been used to protect wood for thousands of years. It is a natural product made from resin produced by lac bugs and mixed to varying degrees with alcohol. Due to its organic nature, the color can range from light amber to dark garnet. It was one of the most common wood finishes in the nineteenth century. Because it is less durable than modern plastic based products, we top coated this floor with an expendable but renewable coat of wax.
Varnish
Varnish is a natural product that has been used for centuries to protect wood and accentuate the inherent beauty and story in the grain. Its durability is comparable to modern finishes and is easier to maintain and renew. The Tung oil based varnish we used here has been manufactured in the original formula for over 100 years.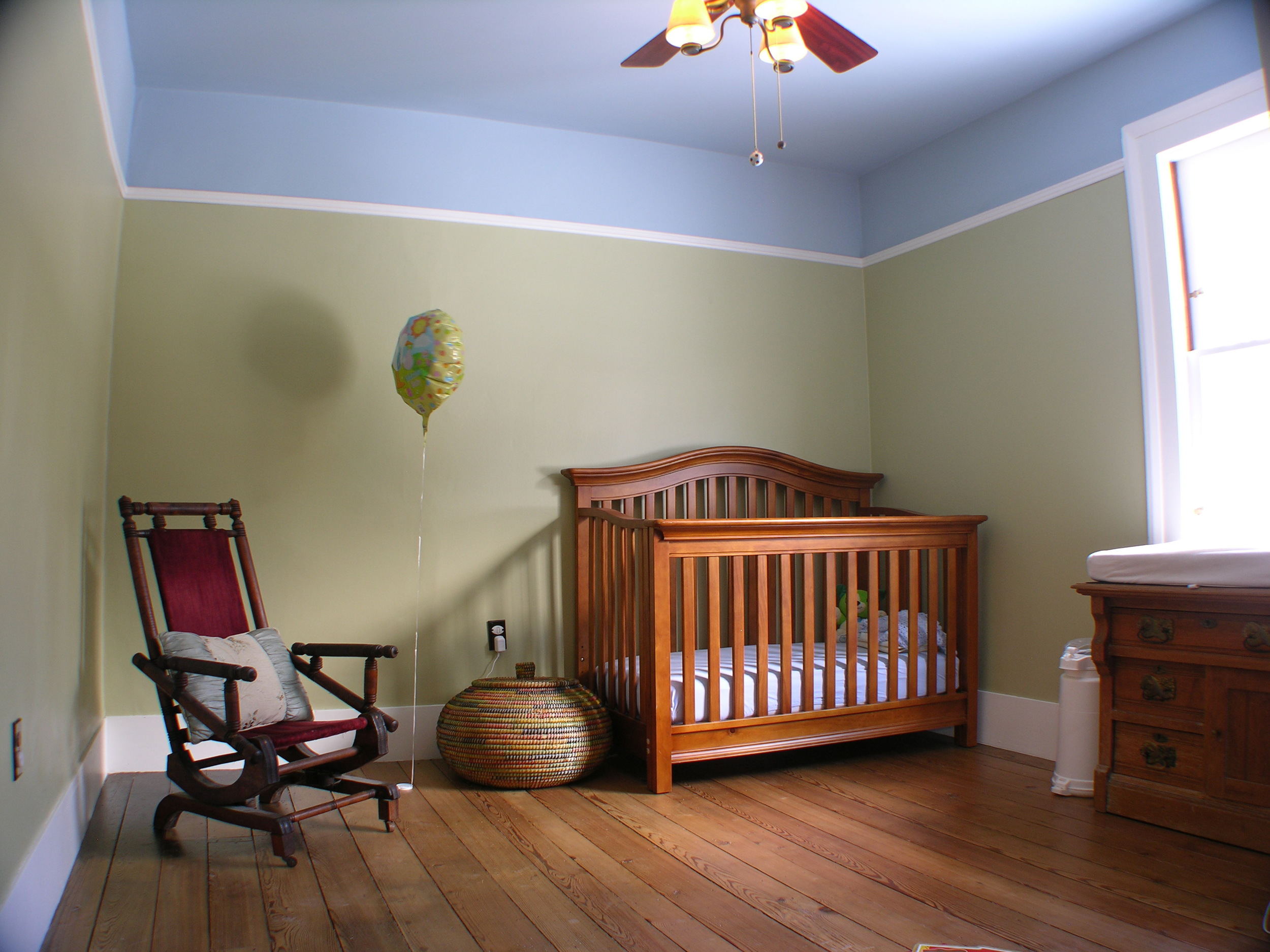 Wax
Before the mid-nineteenth century, most floors were either left natural or painted. Often rugs and carpets were used to protect them and prevent drafts. This bedroom floor was scrubbed extensively and waxed - no sanding, staining, or varnishing.
Tung oil
Several coats of pure tung oil was used to bring this 200 year old rustic floor back to life. The building is a dependency of the eighteenth century Grandstaff House in Edinburg and was used as a law office during the War of 1812. Oil is less durable than other finishes but is easily renewable.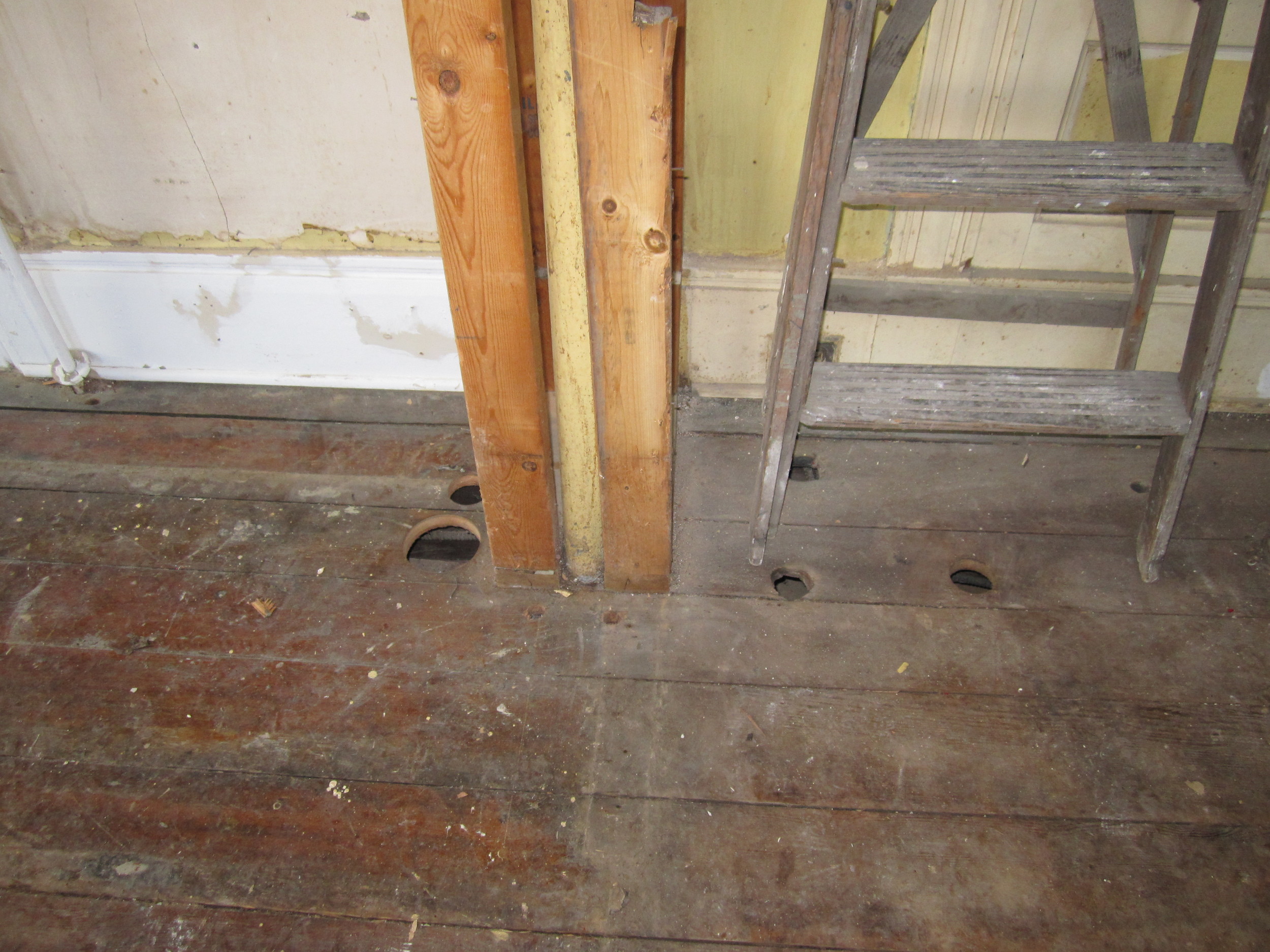 Parlor Floor Repair
Since this yellow pine floor was installed over 210 years ago this parlor floor had undergone many incarnations. After removing 5 layers of linoleum and 2 layers of plywood we found over 20 holes that plumbers had cut for kitchens and bathrooms.
Parlor Floor repair
Several damaged floorboards had to be replaced and hundreds of shims were installed underneath to help alleviate squeaks and extreme unevenness.
Parlor Floor Repair
"Dutchman" repairs were chosen for the plumbing holes where possible. Half-lap joints, glue, and matching wood make this an elegant and visually interesting solution - maintaining as much of the original floor as possible.
Tin Patch
Metal patches are an authentic and simple solution for damaged floors when economy is prefered.
Salvaged Heart Pine Floor Repair
A twentieth century oak floor was removed to uncover the original pine at the Skillman Farm in Fulks Run, Va. The rear section was completely missing and matching salvaged boards were patched into a new framework. Once refinished, the patch is seamless and only distinguishable with careful investigation. Remnants of old paint were left along the edges for the historical record.
Re-milled Heart Pine Floor
In the rear ell of this farmhouse the original floor had been removed. Here we used newly re-milled pine boards salvaged locally from beams and timbers to match the rest of the house. Re-milled wood is easier to work with than old floorboards and is a good alternative when an entire floor needs to be installed.